My 2nd book "
10 Powerful Networking Secrets of Influential People
" is now available on Amazon. I asked successful entrepreneur and real estate developer, Julio Barreto to write the foreword in this book for a very specific reasons. Our 40 year personal and business relationship exemplifies the exact principles shared in this book. With both of us growing up in the Edenald housing projects in
New York City, attending

grade school together and being business associates for many years, Julio has been a big influence in my life. He introduced me to "edification" and successful business owners who create reciprocal self-empowerment by edifying each other. This
simple, yet powerful networking skill is covered in "10 Powerful Networking Secrets of Influential People". When connecting with people, influence is derived by focusing on the ultimate goal of developing relationships for life. It may not always work that way, but that does not mean we shouldn't strive for that achievement.
When we think of people having influence, the thought of politicians, wealthy people, entertainers and company CEOs immediately comes to mind.
"10 Powerful Networking Secrets of Influential People" teaches how to develop your own inner power to change things for the good of community or make a positive impact without having prestige or wealth.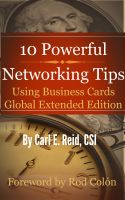 Just in case you were thinking "I didn't even know Carl published a 1st book", you can get a free copy of "10 Powerful Networking Tips Using Business Cards - Global Extended Edition". Just
subscribe to my blog SavvyIntrapreneur.com. Get the paperback version on Amazon.
I am honored to have Rod Colon write the book "foreword". Rod's fast selling book Win The Race For 21st Century Jobs is also on Amazon. A master networker,
Rod Colon has been an influential personal in my life helping me hone my networking skills for fun and profit.